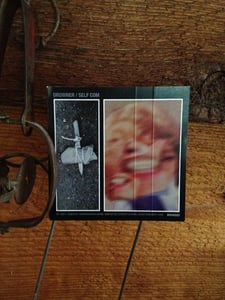 $

4.00
MVA022
DROWNER's side: Affected by over-exposure, a night of never enough. The Bit-Crusher of MUTANT VIDEO.
Side A:
1. Draw a Door
2. Heroin Project
3. Rain Psychic Heat
4. Night Surf
5. Day Break
6. Nail the Coffin Shut
7. Easy Money

SELF COM's side: Doesn't much care. The Deadpan Sass of MUTANT VIDEO.
Side B:
1. The Need To Take
2. Looks Wrecked
3. Big Society / Small Towns
4. Meal Worm
5. Wild Shiek
6. Telephone Vision
Limited to 200 (also available at Iron Lung Records)
Buy it, or you'll get bad breath!